Wantirna College, a high school set within a dazzling backdrop of mountain ranges and beautiful scenery. The warmth of greenery that surrounds the school helps shape it's friendly and easy-going atmosphere. We aimed to capture that essence and deliver a modern, user friendly website that would impress visitors old and new.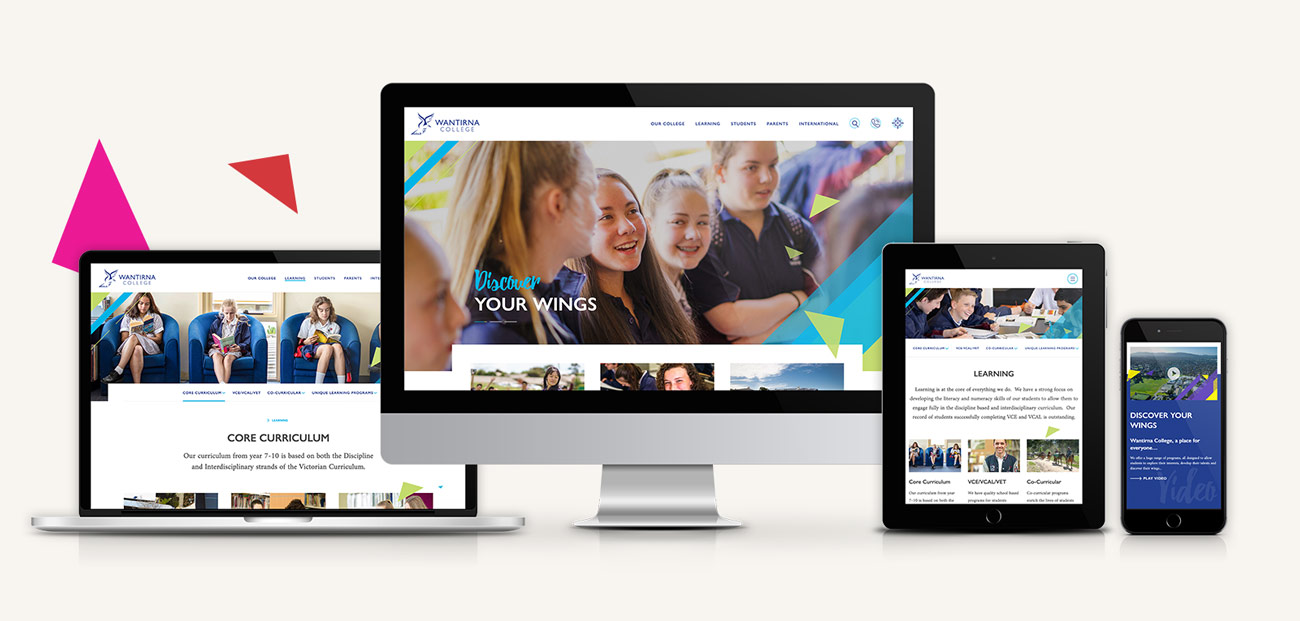 Helping parents and students discover Wantirna College's possibilities
Wantirna's objective for their new online platform was to be unique, vibrant, authentic and inviting. To convey this, we set about crafting a creative and colourful platform that would be engaging to explore and navigate – subtle animated elements throughout really to bring the site to life. On the homepage we chose to highlight important content, including student testimonials, campus virtual tours, unique student programs, and introductory videos.
From storyboarding to scripting and filming (with a drone too!) our video team produced 2 videos that uniquely capture why Wantirna College truly stands out among its contemporaries. One video was structured around the essence of "Discover Your Wings" which took the viewer on a bird's eye journey around the school from the perspective of Wantirna's Falcon emblem. The next was a beautifully crafted Principals Welcome, a much more creative take on the standard piece-to-camera.
The website is complete with vibrant, honest photography. Wantirna College aren't interested in scenes that look too pristine and staged, insisting on the sincerity and authenticity of the students, settings, and surroundings. 360South found a balance of professional looking shots while still retaining a candid human quality.
Like all our sites, the Wantirna website is completely responsive – great for the large proportion of students, teachers and parents likely to use a phone or tablet to browse their site. Also featuring a newsletter, search functionality, and student resources – this site deserves an A+!